Tia Jannah | Bone Artist | NYC - NJ - Philadelphia

---
"I begin each piece by trying to visualize the mental enigma of an object or symbol and the strong meaning behind it. I then find the bones that fit the puzzle best. The colors I choose to use most often are bronze and copper. I feel that these colors give my work a rich, strong earthy quality while preserving a sense of age in honor of a life lived. I know a piece is done, when it is at a state of being alive. As I work with bones, I am exploring the idea that there is a period between death and rebirth. Not only do my bones have new life, I have the sense of new life - of creating new life. Like the discovery of a Divine gift, I experience joy, energy, and self accomplishment. I try to convey all of this in my work. I am ultimately interested in the reactions of visitors to my exhibit, hoping that people feel the "chill" of the resurrection and enjoy the rebirth of dead bones. " Tia Jannah
---
Tia loved art as a child. Her mother & step-mother are artists and both inspired her to pursue her interest in art. In high school, Tia knew that no matter what road she took in life, that she would want to do something in the field of art. She attended Gibbs College and received her Associates Degree in Visual Communications and Applied Science. Post graduation she took on various odd-end jobs, until she was hired by the United States Postal Service in 2003, where she currently works. She has never stopped dreaming that one day she would do something with art.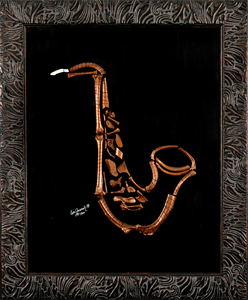 She tried teaching herself web-design, dreamed of one day opening up her own art school for children, and wanted to experiment with pottery, metal and glass, none of which intrigued her long enough. She then started thinking about creating sculptures out of recycled items, because she thought that it would be a great way to reuse something and give it new life and meaning in a creative way. A coworker of Tia's from the U.S. Postal Service, mentioned an artist by the name of Chakaia Booker. Chakaia is an artist that creates amazing sculptures out of recycled tires. The uniqueness of her sculptures, inspired Tia to come up with the idea of using recycled bones as an interesting art medium. Tia decided to do some research on bone art and discovered that no one had done the type of bone art that she envisioned.
Tia wanted to create something unique, something that you would want to purchase as a decorative piece for your home, or office. She then started collecting, cleaning, & drying bones from left over meals. She was not sure exactly how she was going to use them, but she found the concept not only interesting, but challenging as well. She knew that she wanted to use bones as the main medium in her art work. As a result of that thought process, she created three small wall sculptures and hung them on her kitchen wall. Curious as to what the reaction would be from her friends and family, she was quite surprised to get positive feed-back about the pieces. That positive feed-back inspired Tia to create her "Rhythm" series, which is a wall series of musical instruments created with bones.
Tia wanted to use her creativity to positively impact her community, so she volunteered at a local Senior Day Care, which she found to be a very heartfelt and rewarding experience. Tia then decided to expand her knowledge of entrepreneurship, by enrolling in an accelerated class on the subject entitled, "Rising Tide Capital". The class not only helped fuel the skills that Tia needed to focus on selling her art, but also helped start her "Senior Therapeutic Art" service. Her art classes are not your typical senior arts and crafts classes. She offers "Art Basics", a curriculum on teaching the elements of design and color theory, and "Crafts with a purpose" a curriculum of crafts that the seniors would want to keep, sell or give away as gifts.
October 2013, Tia and her best friend Amira, an editorial hair stylist, came up with the idea of collaborating and becoming trail blazers in their own right, in order to help propel their individual career goals. Together, they formed "Bizarre World". They kicked off their first art and hair exhibit on March 15, 2014 in Montclair, New Jersey. "Bizarre World" is not your typical art exhibit, it is an experience. Tia's dream is to travel the world and share the "Bizarre World" experience with other cultures.
In 2014, Tia decided to create a platform in order to give local or underground artists an opportunity to showcase their talents, so she created "Art Has No Rules". She kicked off her first art mixer on February 21, 2015. The art mixers feature an interesting variety of artists that showcase all genres of art, from visual to vocal. She currently hosts her art mixers in New Jersey/New York area and plans to expand to the Philadelphia
---
---
Click the Link to Join My Next Event >>> Tia Jannah Art Museum | Rahway Event - 5/12/2017